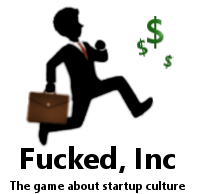 F*cked, Inc
A downloadable game for Windows
You have been hired as the Interim CEO of a troubled enterprise software startup. Money is tight so The Board is looking to sell. Your job is to keep this sinking ship afloat and attractive for the next three months, just until your company is acquired. After that, it's not your problem..right?
This is an early, obscure prototype made after an internal game jam.

This was whipped up in 3 hours. Enjoy!
Don't bother going fullscreen, doesn't really work.