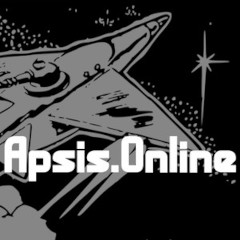 Apsis Online: A Multiplayer Roguelike
Apsis Online V4 Released!
---

This will be a short update! But I'm excited to announce the latest major release for Apsis Online. Which includes:
A new user-interface for @Space.
Cryptocurrency cloud wallets (which is disabled for now).
Refactored [i]nteract mechanic (took 6 years but I did it).
Minor but broad gameplay patches for offline mode (First Paradise).
I've taken to calling this project a multi-user roguelike (MUR).
Some of you might recall that ridiculous bug in which the interact icon would erase things as you moved the cursor. This stemmed from an old piece of code I wrote back when I had no idea what the hell I was doing. And thankfully, a lot has changed since then! The fix required a lot of patience considering how tangled up that code was with the base game (First Paradise) and how many things broke in the process. But dammit it worked and now functions a lot more like it should have in the first place.
Cryptocurrency integration was added but I'd require full-access to the game server to utilize this feature effectively (and securely). That said I have been exploring options in regard to financing a beefier VPS or dedicated server. This includes Kickstarter, Patreon or an ambitious crypto sponsor. We'll see, but in the meantime I have re-enabled the ability to donate to this project. Any additional support would be appreciated! But what would mean the most to me is you just signing up and checking out the progress overall. Everything will get sorted out in due time.
Sandboxing it up on planets is painfully slow right now as we're live only through the generosity of Vineyard and beggers can't be choosers. But I'm committed to 24/7 uptime from here on out. I'll see you in-game. And thanks for playing.\
PS: Posting and commenting on things may take a few seconds as well, stick with it! It'll go through.
~Doop
Get Apsis Online: A Multiplayer Roguelike